It was pretty funny…well it wasn't funny when it first happened;  I nealry fell apart with worry and anguish.  There is a fairly large patch of little brown mushrooms growing wild in my back yard. I noticed them  about a week and half ago but I didn't think too much of them until yesterday.
I let my dogs, Jenna and Princess out into the yard yesterday.  My dogs are well trained and know not to pick things off of the ground and eat them.  But for some reason, these little mushrooms grabbed Jenna's attention.  She ran over and licked (not ate) one of them and immediatly kneeled to the ground and stopped moving as if she was in pain. 
My heart nearly stopped.  I immediately rushed towards her to see of she was ok.  She was still conscious, but she couldn't stand up.  I picked her up and rushed her into the house.  I wanted to take her to the vet, but it was already late in the evening and their office was closed.  There are no such things (that I know of) as 24 hour emergency pet hospitals in Japan, at not near me, so all I could do is hope that she survives to the next day.  I wasn't sure if I should try to feed her or not or to even give her water.  I took a chance and just tried to give her some water in the hopes that maybe it may dilute the poison.  She stood up slowly and took a long drink.  I momentarily felt relieved that she was well enough to stand on all fours and drink water, but then, she kneeled back to the ground again and sighed.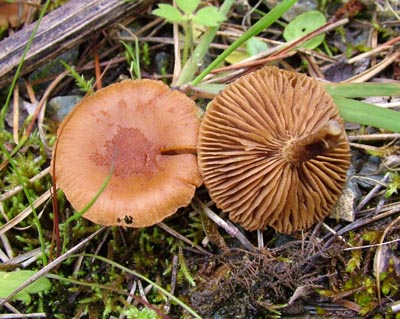 An unknown species of LBM (little brown mushroom) that possibly contains psilocibyn or psilocin, a strong hallucinogen.
I picked her head up into my hands and looked into her eyes.  I was bit puzzled and a bit humored at the same time because she looked to be drunk.  Her eyes weren't tracking right.  Normally I would have thought this was funny, but it could have been a very bad sign, so it made me worry even more.  I immediately got on my PC and started looking for the same species of mushrooms on the internet to get an idea of what she licked, and what it was doing to her.
First few sites I hit, scared the hell out of me.  I found a couple of breeds of mushroom that looked remarkably similar to the ones in my yard, especially to someone who has no clue about mushrooms, like me. .  When I read their properties, I nearly died.  One read "highly poisonous, completely destroys liver within 24 to 36 and can to lead to death without immediate treatment."  The symptoms included violent vomiting within the first 30 minutes to an hour after consumption. I looked over at Jenna who was just looking at me dazed but otherwise pretty healthy.  She hadn't vomited, so I figured that this had to be a different species.  As I read on, the article described the mushroom as being up to 4 to 6 inches in diameter.  I sighed with relief because the mushrooms in my yard were quite small (the largest being only about 2cm in diameter)..
I surfed the web for two hours doing research on mushrooms.  I think I now have enough knowledge in my head to be a certified mushroom expert.  By then, it was getting pretty late and I hadn't fed  Princess yet.  I thought that maybe it wouldn't be too wise to give Jenna anything and that she probably wouldn't eat anything anyways.  But I can tell Princess was extremely hungry at this point. She was giving me the evil eye and wasn't giving a care in the world that her sister may be dead in a matter of a few hours.

I started to prepare dinner for Princess.  The dogs know when I am making them dinner because of the clanging sound that their metal water dish makes.  They usually both run to the kitchen and sit and wait for me to set their food on the floor. When I turned around to set Princess's food on the floor, surprisingly Jenna was there too.  She was laying flat on her stomach and still looked dazed, but she was expressing interest in eating.  Usually, when dogs are really sick, they won't eat.  Its usually as sign of a problem and that they should be taken to a vet.  But if they have an appetite, it usually means that they'll be okay.
I was relieved to see that she was hungry, but I wasn't sure if I should feed her.  Again, I took a chance a gave her some fresh raw beef, and she scarfed it down like there's no tomorrow.  This nearly brought tears to my eyes because, I now knew she was going to be ok. I went ahead and fed her as I normally did, and she at it with a very healthy appetite.  As a matter of fact, I think her appetite was a lot better than normal so I gave her more than she normally gets.  After five hours, she hadn't vomited, so I knew it wasn't the fatal breed of mushrooms, and it definalely was not doing any damage to her liver.
I did some more research on "mildly" poisonous mushrooms and finally found what she might have eaten (licked).  Its a breed of mushroom that contains a very potent hallucinogen that is a derivative of LSD.  So bascally, Jenna was stoned
.  She couldn't stand because she was dizzy from being high, and her stronger than normal appetite was a case of he munchies. By the way, I found this breed of mushroom, not on a botany or even a mycology site, but a hippie psycheleic site on how to cultivate "magic shrooms."  Apparently this breed of mushroom is illegal in Japan, so I have no idea where they came from. It did say somewhere that these mushrooms can grow wild,  but maybe my neighbors or landlord planted them.

This morning, other than a slight LSD hangover, Jenna was back to her old self.  She still walked like she was drunk, but it was a big improvement from last night.  And now, she is totally normal.  She jumped up on my lap when I came home and gave me a lick on my cheek…dumb dog!